Paris features twenty arrondissements (neighbourhoods), and thousands of hotels, hostels, and apartments. So where should you stay? This can be a tricky question to answer if you are a first-time visitor, so let's look at the four best arrondissments to consider – with a budget hostel option for each without pests!
1. Bastille
Bastille was the name of a famous prison that once dominated the area, but it has since been replaced by many bars and clubs that are popular with the Parisian youth. This is the place to stay if you are looking to party, while still experiencing tiny cobblestone streets that are truly Parisian.
The Auberge Internationale des Jeunes is a great hostel option for those on a budget, in part due to the free breakfast which is served daily.
2. The Latin Quarter
The Latin Quarter features narrow streets and café-lined squares which can get quite busy due to the many restaurants, bars, and jazz clubs. This is another area that's perfect for those looking for great nightlife during their travels.
The Young & Happy Hostel offers simple rooms, but the beds are comfortable, showers are clean, and there's a large kitchen space for those who like to save some money by cooking instead of eating out for every meal. It also has a common room that was once an old cellar and has an awesome vibe, and they often offer evening events for something to do if you don't want to go out, and there's also a daily happy hour and free breakfast.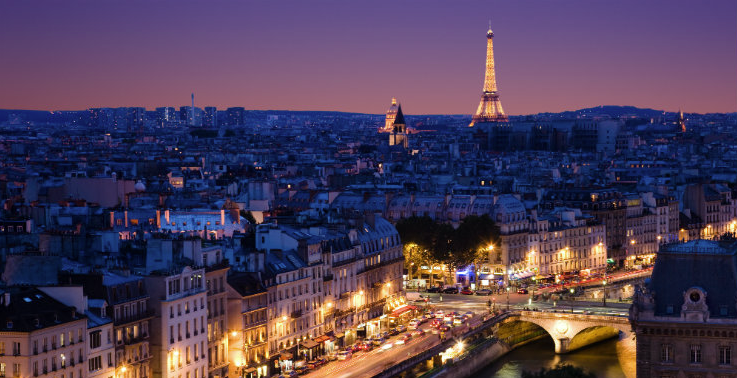 3. Champs-Élysées
This famous and upscale street features cinemas, cafés, luxury specialty shops, and chain restaurants. It's very picturesque and is centrally located for easy access to everything.

The BVJ Champs-Elysées sits in a former mansion and offers a free breakfast each morning, free luggage storage, and a private courtyard.
4. Le Marais
This area has changed a fair bit over the last few years, and is full of art galleries, boutiques, and cafés. The new additions are mixed in with old architecture, and half-hidden courtyards, museums, and some of the best restaurants in Paris can be found here. It is also the hub for the gay nightlife scene in Paris.
The Auberge de Jeunesse MIJE Fourcy is a great place to stay, and has a beautiful courtyard that offers free breakfast every morning.
These four neighbourhoods each offer something unique, and if you really want to immerse yourself in the Parisian atmosphere then we recommend staying in one of these top picks, whether it's at the suggested hostels or something a bit fancier if your budget allows. No matter your choice, you're sure to have a wonderful time in Paris!